Tempus fugit: time flies- for all of us.
A.W.Lymn Ltd, is a well known name and has long been associated with Nottingham's inner city. Our headquarters is still located in Sneinton just a few hundred yards from Goosegate, where our founders, Arthur William Lymn and his son Harold Percy, traded as furniture makers and dealers at the turn of the nineteenth century.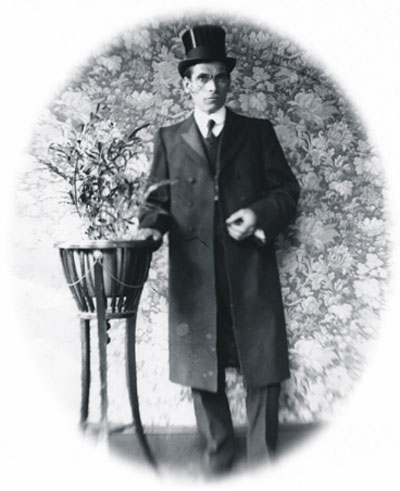 Arthur William Lymn
In 1905 father and son decided to specialise in the manufacture and supply of coffins and the provision of a full funeral service, hence their entry into the 'undertaking' profession as it was most commonly known in those days.
The new business was soon so successful that it had to move to larger premises. In 1915 the office was moved to Bath Street, opposite Sneinton Market. The firms horses were stabled in Robin Hood Street and coffins manufactured in Handel Street. The stables were eventually replaced with garaging for motor vehicles; the same site now houses an impressive array of silver Rolls-Royce hearses and limousines, reputed to be the largest privately owned fleet of such vehicles in the world.
When Arthur Lymn died in 1929 control of the business passed to his widow Louisa and his son Harold. When Louisa in turn passed on in 1939 Harold took sole charge. Despite the coming of war in 1939 the business continued to grow- even though during the war years horses had to be re-introduced as a consequence of petrol rationing. Harold himself was involved in the war effort serving as a volunteer at the Civil Defence mortuary.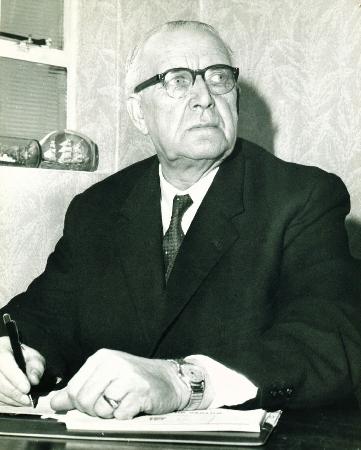 Harold Percy Lymn
Harold's son Douglas and son-in-law George Rose continued to develop the business which became a limited company in 1958. Douglas and George became members of the British Institute of Embalmers and were involved in the first repatriation of human remains from England to Pakistan at about this time.
In 1977, a year after Harold's death, the company moved its headquarters to Robin Hood House, in Robin Hood Street where the main hub of the firm can still be found today.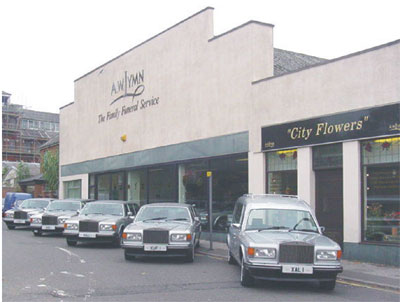 Robin Hood House and Rolls-Royce Silver Spur Fleet 2001
George passed away in 2018, but his wife Sheila still takes an active interest. Their son, Nigel Lymn Rose, is the Company Chairman and Nigel's son Matthew is Managing Director. Nigel's sister Jackie and his wife Penny are also directors. Nigel's daughter, Chloe is his part-time PA and also administers the A W Lymn Centenary Foundation, whilst his nephew Ben is General Manager of A W Lymn The Craftsmen in Stone the company's monumental masonry division which was founded by Ernest Smith along with Harold Lymn. In 2019 Pete Clarson was the first non family director to be appointment.
Over the decades the firm has expanded greatly. By the early years of the 21st century there would be no fewer than 22 funeral homes serving the whole of Nottinghamshire an South Derbyshire, as well as an in-house family-run floristry division. Our fleet are renowned across the country and regularly travel great distances to be of service.
The company is a member of the National Association of Funeral Directors, of which Nigel was the President during its Centenary in 2005, and boasts more holders of the associations Diploma in Funeral Directing than any other funeral business within the country. The company is also a member by invitation, of the prestigious American organisation of Selected Independent Funeral Homes.
The respect accorded to the departed and the bereaved by Arthur and Harold Lymn has happily been transmitted, undiluted, to the present generation now running this family firm.